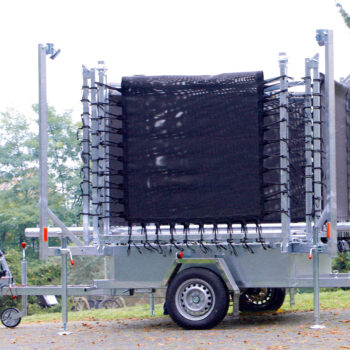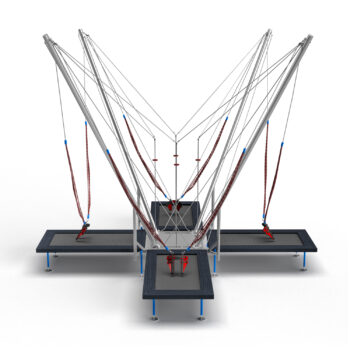 4in1 Eurojumper mobile
High turnovers and unbeatable mobility.
You are looking for the full income power of a 4-station Bungee Trampoline but need fast and efficient mobility for events? The 4in1 Eurojumper Mobile is the perfect solution for you. Mounted on a homologated trailer to get you quickly to every event. The trailer is equipped with led backlights for increased visibility and safety on the road and can be towed by a normal-sized car – no separate transport vehicle or special driver's license required. The unit is set up directly on the trailer – no unnecessary moving of equipment or wasted space. Get your quote now!
Stations: 4

Delivery dimensions: 4.9

x 2.35 x 2.55 m (LxWxH)

Footprint: 10m x 10m
Height: 7 m
Weight : 950 kg
Set-up: 2 person, 1 hour
Operators: 2 person
Capacity: 48 customers per hour
Power supply: 230 V, 13 amp
Product gallery
Technical Description
Structure
Galvanized steel base unit Aluminum poles Optimized for easy fitting and assembly TÜV & ADIPS certificates, design review
Trailer
Tow bar, hand brakes & axles by industry-leader AL-KO. Brakes and components hold the highest CSA ratings available in the industry Integrated base unit and trampolines Stores and conceals all equipment during operation EU homologated Certificate of conformity, VIN number, TÜV certified LED backlights for added visibility & safety on the road
Trampolines
Permanently integrated into the trailer Easily fold up and down for set-up or storage Trampoline beds permanently connected to frames with elastics, saving time and effort during set-up 3.3 x 1.7 m trampoline beds Galvanized steel frames, rust-resistant UV resistant spring mats to protect the jumpers
Aluminium tubes
The tower poles are in two halves and slot easily together to be secured to the base. The tower poles have now been given extra strength by additional sleeving inside.
Winches
1050 W, 230 V high quality, extra strong winches made in the EU Concealed inside the base unit – out of sight & out of reach for customers Equipped with nylon ropes for extra durability Specifically designed for Bungee Trampoline use
Bungee Cords
Units equipped with braided bungee cords by default Braided bungee cords feature maximum durability with a regular elasticity of 250% Latex bungee cords available as an option for an additional charge Latex bungee cords feature extreme elasticity of 400% for exceptionally high jumps with a regular durability For more information about your bungee cord options, visit our online shop
New for 2021
Larger swivels to attach to the bungee cords to help prevent twisting (occurs when jumpers do flips). This will assist in preserving the lifespan of your bungee cords and save you extra work.
Back lights , new for 2021
New LED backlights make the trailer looks modern and unique. LED lights as much more visible on the road so You are safer during the trip.
Product video
The trampolines should be operated by two people on normal/busy days to provide adequate Jumper supervision and to maintain good serving/rotation speed (one person to serve/fit harnesses and one person to supervise the Jumpers). We recommend that a five-minute session per person is a good rule of thumb, but should be adjusted according to your slow or busy periods (approximately 3 minutes per session when very busy and perhaps 10 minutes during quiet periods to keep the attraction looking dynamic). During quiet periods, it is possible for one person to operate the trampoline alone.
Towning
When packed and ready for the road, the trampoline trailer is conveniently small and neat and can be towed by most cars. This very light load weighs just 950 kg and its dimensions are: 4.9m (length) 2.34m (width) 2.54m (height).
Scope of delivery
The unit is delivered complete and ready for operation:
Complete steel & aluminum construction
Integrated trailer
4 integrated trampolines (3.3 x 1.7 x 0.75 m each)
1 set of bungee cords for 4 stations
4 harnesses (1 of each size: XS, S, M, or L)
4 winches
Operation manual with detailed set-up and operation instructions
Free customer support by telephone & e-mail
24 months warranty (bungee cords & harnesses excluded)
Extra harnesses, bungee cords and spare parts can be purchased. For more information, visit our online shop
Not included in delivery:
Power supply, signs, lighting, decorations, barriers