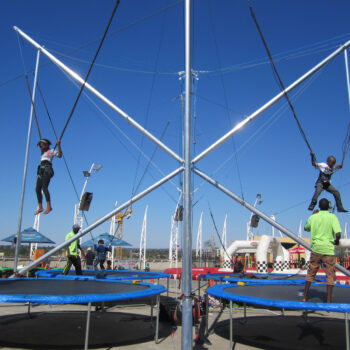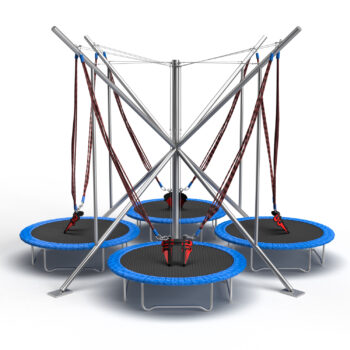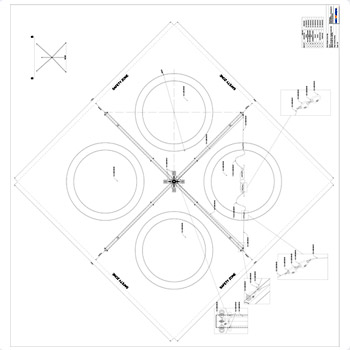 4in1 Eurojumper park model
The classic bungee trampoline model for maximum profits.
The original Bungee Trampoline set up and still highly popular around the world, creating a contagious energy-filled atmosphere and smiling faces among jumpers and spectators alike at amusement parks, recreational facilities, and events everywhere. 4 stations offer maximum income potential with up to 60 total customers and 300 euros per hour. Perfect for stationary operation but still fast and easy enough to set up for mobile use and events.
Stations: 4

Delivery dimensions: 6.6

x 2 x 1.5 m (LxWxH)

Footprint: 12m x 12m
Height: 8 m
Weight : 750 kg
Set-up: 2 person, 3 hours
Operators: 2 person
Capacity: 48 customers per hour
Power supply: 230 V, 13 amp
Product gallery
About bungee trampoline
Structure
80% aluminum construction, extra strong alloy 20% galvanized steel Optimized for easy fitting and assembly TÜV certificates
Trampolines
4.35 m (14 ft) diameter trampoline beds Galvanized steel frame, rust-resistant UV resistant blue spring mats to protect the jumpers
Aluminium tubes
Our tubes are made using special aluminium alloy : 6005A which is much stronger than standard ones. The tubes have now been given extra strength by additional sleeving inside.
Winch - new for 2021
1050 W, 230 V high quality, extra strong winches made in the EU Equipped with alpin rope for extra durability Specifically designed for Bungee Trampoline use
Bungee Cords
Units equipped with braided bungee cords by default Braided bungee cords feature maximum durability with a regular elasticity of 250% Latex bungee cords available as an option for an additional charge Latex bungee cords feature extreme elasticity of 400% for exceptionally high jumps with a regular durability For more information about your bungee cord options, visit our online shop
New for 2021
Larger swivels inox to attach to the bungee cords to help prevent twisting (occurs when jumpers do flips). This will assist in preserving the lifespan of your bungee cords and save you extra work.
Product video
Key benefits
Worldwide bestseller
Maximum income potential
Stationary and mobile use
The unit has CE – Our bungee devices have already been delivered to: England, Crete-Greece, Qatar-Middle East, India, Switzerland, Denmark, Republic of Ireland, Holland, Norway, Hungary , Libya, Sweden, Finland, Romania, Czech Republic, Belgium, Canada, Austraila, New Zealand and many more (contact us for the references in Your country)

Every mentioned customer is satisfied and eager to order more products in the future to expand their business. Using bungee cords and secured with adjustable harness (xs,s,m or l) the jumper is bouncing on a traditional trampoline and reach up to 8,5 meters into the air where they are free to experiment with acrobatic movements and summersaults (our record is 5 in one jump). The play is totally safe and can be even used by children aged 2.

Our five models can be used anywhere no matter the circumstances. It can be placed on a beach , in the mountains, at the lakeside, in shopping centres, etc. All aspects of using bungee and trampoline are clearly explained in the user?s manual. You will be given all instructions about choosing the right place to set it, as well as other relevant information.
Product video
Scope of delivery
The unit is delivered complete and ready for operation:
Complete steel & aluminum construction
4 trampolines (4.35 m diameter each)
1 set of bungee cords for 4 stations
4 harnesses (1 of each size: XS, S, M, or L)
4 winches
Operation manual with detailed set-up and operation instructions
Free customer support by telephone & e-mail
24 months warranty (bungee cords & harnesses excluded)
Extra harnesses, bungee cords and spare parts can be purchased. For more information, visit our online shop
Not included in delivery:
Power supply, signs, lighting, decorations, barriers