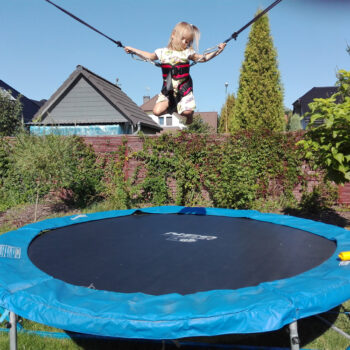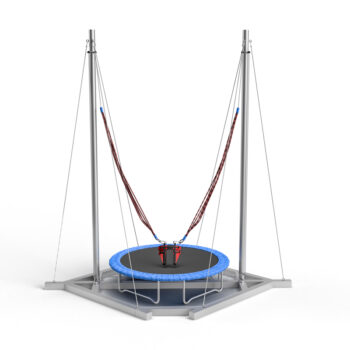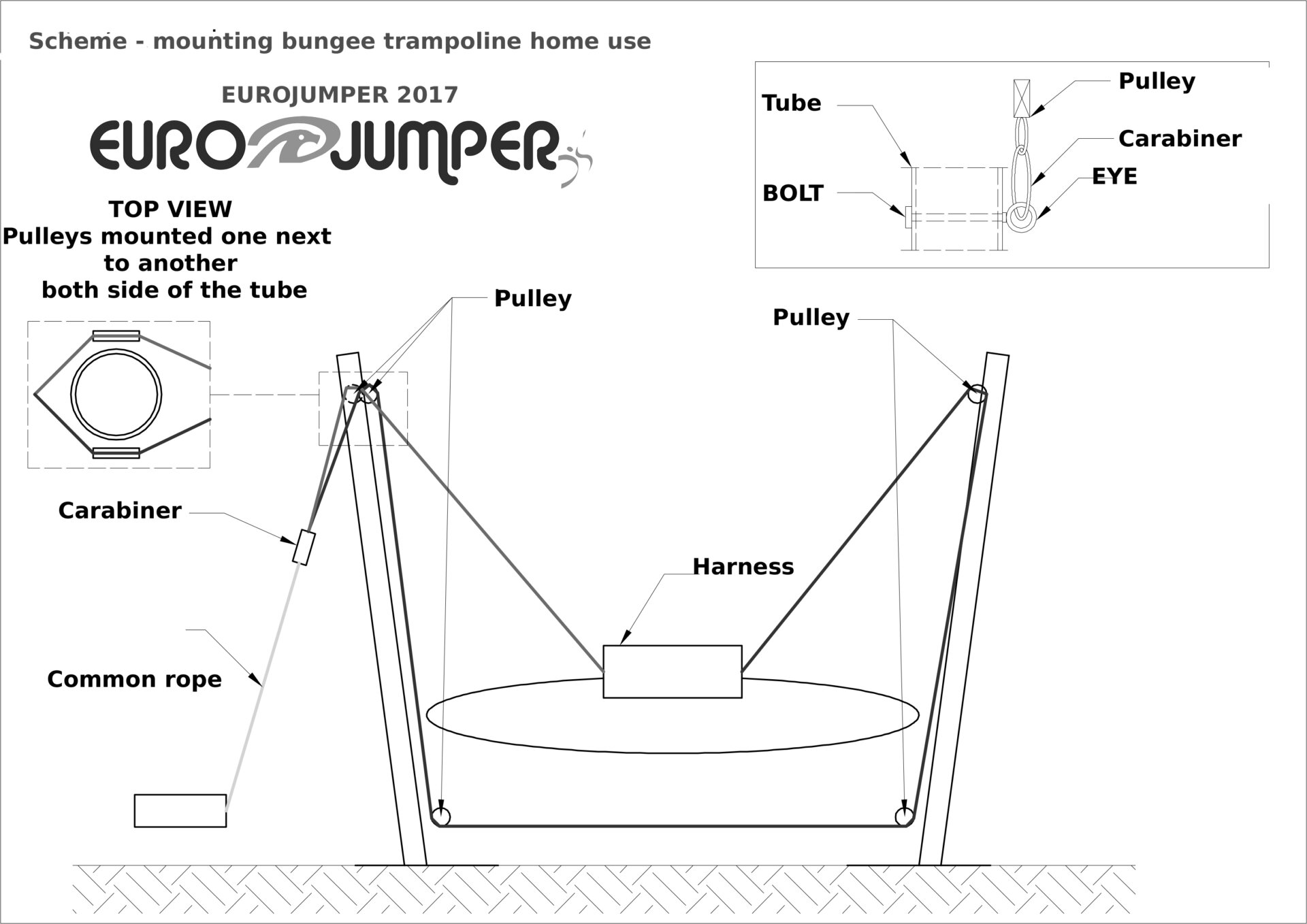 1in1 Eurojumper home use
Key benefits
Home use

Minimal space requirements

Easy and fast set up
Stations: 1

Delivery dimensions:

4 x 2 x 2 m (LxWxH)

Footprint: 6m x 5m
Height: 4 m
Weight : 200 kg
Set-up: 1 person, 2 hours
Operators: 1 person
Power supply: 230 V, 1 amp
Product gallery
Technical description
Structure
80% zinc-coated (even pole interiors) construction 20% aluminum, extra strong alloy Optimized for easy fitting and assembly
Trampolines
4.35 m (14ft) diameter trampoline bed Galvanized steel frame, rust-resistant UV resistant blue spring mat to protect the jumpers
Aluminium tubes
The tower poles are in two halves and slot easily together to be secured to the base. The tower poles have now been given extra strength by additional sleeving inside. There are 4 aluminium pipes (splitted). Special alloy : 6005A.
Winch
1050 W, 230 V high-quality winch made in the EU Specifically designed for Bungee Trampoline use
Bungee Cords
Units equipped with braided bungee cords by default Braided bungee cords feature maximum durability with a regular elasticity of 250% Latex bungee cords available as an option for an additional charge Latex bungee cords feature extreme elasticity of 400% for exceptionally high jumps with a regular durability For more information about your bungee cord options, visit our online shop
New for 2021
Larger swivels inox to attach to the bungee cords to help prevent twisting (occurs when jumpers do ?flips?). This will assist in preserving the lifespan of your bungee cords and save you extra work
High-flying fun for your children in your backyard
The 1in1 Eurojumper Home is a slimmed down, affordable Bungee Trampoline model specifically designed for home use. As regular trampolines have become a staple for kids in backyards around the world, this unit will take their fun to new heights.
With 1 jumping station, a reduced height of 4m, and an easy set-up in only 1 hour by 1 person, the 1in1 Eurojumper Home will bring amusement park excitement to your home.
Scope of delivery
The unit is delivered complete and ready for operation:
Complete steel & aluminum construction
1 trampoline (4.35 m)
1 set of bungee cords for 1 station
1 harness (size of choice: XS, S, M, or L)
1 winch
Operation manual with detailed set-up and operation instructions
Free customer support by telephone & e-mail
24 months warranty (bungee cords & harnesses excluded)
Extra harnesses, bungee cords and spare parts can be purchased. For more information, visit our online shop
Not included in delivery: Power supply, signs, lighting, decorations, barriers